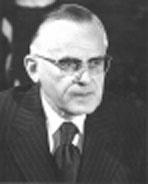 Earl Lauer Butz (July 3, 1909 – February 2, 2008) was a United States government official who served as Secretary of Agriculture under PresidentsRichard Nixon and Gerald Ford.
Born in Albion, Indiana, Butz was an alumnus of Purdue University where he was a member of Alpha Gamma Rho Fraternity. He received a Bachelor of Science degree in Agriculture in 1932, and then a doctorate in Agricultural Economics in 1937. He was the uncle of NFL player Dave Butz.
In 1948, Butz became vice president of the American Agricultural Economics Association, and three years later was named to the same post at the American Society of Farm Managers and Rural Appraisers. In 1954, he was appointed Assistant Secretary of Agriculture by President Dwight D. Eisenhower. That same year he was also named chairman of the United States delegation to the Food and Agriculture Organization of the United Nations. He left both of the aforementioned posts in 1957, when he became the Dean of Agriculture at his alma mater, Purdue University. In 19681971, President Richard NixonWatergate scandal in 1974. In his time heading the Department of Agriculture, Butz revolutionized federal agricultural policy and reengineered many New Deal era farm support programs. His mantra to farmers was "get big or get out," and he urged farmers to plant commodity crops like corn "from fencerow to fencerow." These policy shifts coincided with the rise of major agribusiness corporations, and the declining financial stability of the small family farm. he was promoted to the positions of Dean of Education and vice president of the university's research foundation. In appointed Butz as Secretary of Agriculture, a position in which he continued to serve after Nixon resigned as the result of the
At the 1974 World Food Conference in Rome, Butz made fun of the Pope's opposition to "population control" by quipping, in a mock Italian accent: "He no playa the game, he no maka the rules."[1]
A spokesman for Cardinal Cooke of the New York archdiocese demanded an apology, and the Secretary was reprimanded by the White House,[1][2] Butz issued a statement saying that he had not "intended to impugn the motives or the integrity of any religious group, ethnic group or religious leader."[1] which forced him to apologize.
Butz was forced to resign his cabinet post on October 4, 1976 after a second gaffe. News outlets revealed a racist remark he made in front of entertainer Pat Boone and former White House counsel John Dean while aboard a commercial flight to California following the Republican National Convention. The October 18, 1976 issue of Time reported the comment while obscuring its vulgarity:[3]
Butz started by telling a dirty joke involving intercourse between a dog and a skunk. When the conversation turned to politics, Boone, a right-wing Republican, asked Butz why the party of Lincoln was not able to attract more blacks. The Secretary responded with a line so obscene and insulting to blacks that it forced him out of the Cabinet last week and jolted the whole Ford campaign. Butz said that "the only thing the coloreds are looking for in life are tight p – - – - , loose shoes and a warm place to s – - -."
After some indecision, Dean used the line in Rolling Stone, attributing it to an unnamed Cabinet officer. But New Times magazine enterprisingly sleuthed out Butz's identity by checking the itineraries of all Cabinet members.
In any case, according to the Washington Post, anyone familiar with Beltway politics could "have not the tiniest doubt in your mind as to which cabinet officer" uttered it.[2]
While some newspapers published the remark, others stated only that Butz had said something too obscene to print, and invited their readers to contact the editors if they wanted more information. The San Diego Evening Tribune offered to mail a copy of the whole quotation to anyone who requested it; more than 3,000 readers did.