on
June 22, 2007
at
7:32 am
Posted In: Uncategorized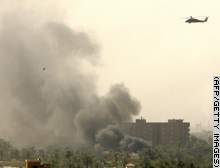 BAGHDAD, Iraq (CNN) — Twelve U.S. troops have been killed in attacks in expanded operations against insurgents in Iraq during the past 48 hours, according to the U.S. military.
In the deadliest attack, a roadside bomb Thursday struck a military vehicle in northeastern Baghdad, killing five U.S. soldiers, three Iraqi civilians and an Iraqi interpreter. A U.S. soldier and two civilians were wounded.
Also Thursday, a rocket-propelled grenade struck a U.S. military vehicle in northern Baghdad, killing a soldier and wounding three others.
On Wednesday, a roadside bomb killed two troops southwest of Baghdad.
In addition, two Marines were killed in combat operations in Iraq's Anbar province on Wednesday.
With the deaths, 3,538 U.S. military personnel have died in the Iraq war — 68 of them in June. Seven civilian contractors working for the military also have been killed since the 2003 invasion. ↓ Read the rest of this entry…